A New Three or Four Digit Value

An important new security feature for "card-not-present" transactions now appears on most credit cards. This new feature is a three or four digit value which provides a cryptographic check of the information embossed on the card.

Where is the VCode Located?

On Visa, Mastercard, and Discover, the VCode three digit value is printed on the signature panel on the back of the credit card immediately following the card account number. Here is a sample of the vcode on a Visa: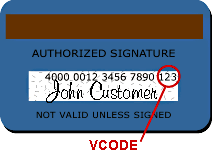 On American Express, the VCode is a four digit code and is printed on the front of the card just above and to the right of the embossed credit card account number.

The VCode value helps validate that:


the customer has the credit card in his or her possession, and
the card account is legitimate.